4 Social Media Tools To Help You Grow
According to research from LinkedIn, approximately 81% of small and medium-sized businesses (SMBs) use social media and 94% of the 81% do so for marketing purposes.
The study went further to reveal that the majority of SMBs rely on social network platforms for growth.
If your business is among those that use social media for growth, there are various tools to help you succeed at it. Tools for content discovery, curation, scheduling, analytics, publishing and more can be used to boost your growth strategies.
Let's dive in and see 4 top social media tools that will help your brand grow.
BuzzSumo lets you discover trending influencers and the most shared content in a particular field. You can use it to know what content performs best for any niche.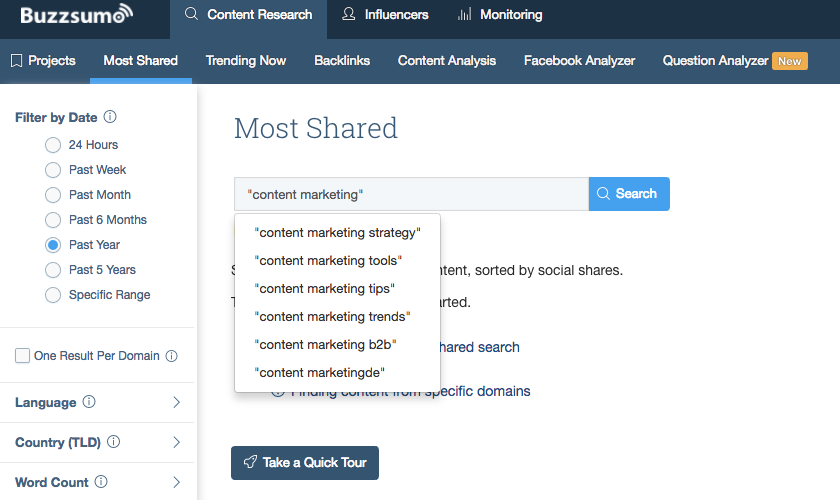 To get started you just need to search for your industry and locate topics generating buzz. 
With BuzzSumo you will be seeing which of your pages has the most engagement so you can also get a clearer understanding of your social media impact and create data-driven content strategies. 
The tool will break down your social media engagement results by Twitter, Reddit, Facebook, and Pinterest shares. 
By seeing the user engagement of each social media platform in a single space, you can know which posts are performing excellently across the web without having to move back and forth between different social channels.
Best BuzzSumo Strategy 
It isn't just enough to publish great content, sit back and hope for the best. Without the right strategy, the best article will fall flat. 
This does not necessarily happen because of low content quality rather it is because your content was not picked up by the right people and shared to your target audience. 
Think of it this way, would you trust a self-serving post straight from a brand's Facebook page or would you find it more trustworthy when an industry expert shares the post? 
Chances are you will most likely want to read and engage with the content if someone you admire in your industry shares it. 
This is why BuzzSumo's ability to discover influencers is one of the best uses of the tool. By clicking on the influencer tab, you can see a list of industry experts who are either talking about topics relevant to you or are writing content around it. 
You will get insights into the influencers and the number of engagements their content generates. 
With this information, you'll know which influencer to contact based on their reach and relevance to your target audience. 
When conducting an influencer outreach, ask if you can publish your content on their blog in exchange for access to your audience. 
Influencer outreach will help you reach new audiences and acquire valuable backlinks. Direct backlinks are critical for ranking your business and getting passive traffic to your website that grows over time.
Buffer is a social media tool developed to make it easy for marketing teams and businesses to analyze performance, schedule posts and manage multiple accounts in a single place.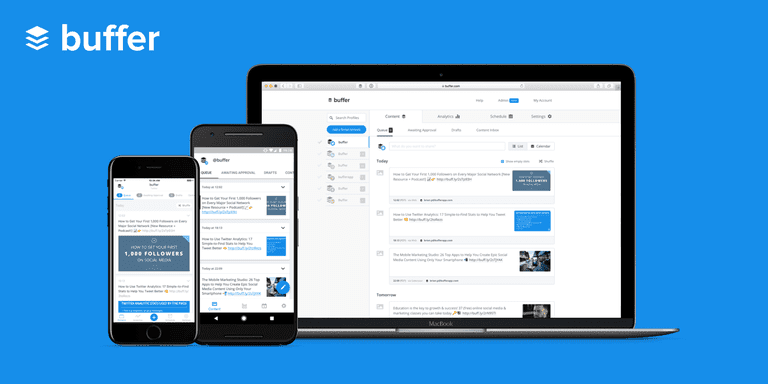 Buffer lets you set a posting schedule for each of your social network profiles, and after you have put in content to queue, Buffer will publish it at the designated time you set.
It also provides you with an in-depth analytics dashboard that allows you to see your most popular social media posts.
Best Buffer Strategy
Amongst the various capabilities of Buffer, one of its most effective features is identifying popular posts and reposting them. The purpose of this is to drive more traffic than the first share got.
Tom Tunguz experienced this when he decided to carry out an experiment to see the effect reposting content had on traffic growth.
On his Twitter account, he shared a link to a blog post, and after some time he made several reposts at varying intervals. The outcome was that for each re-post he got 75% more retweets than the previous post.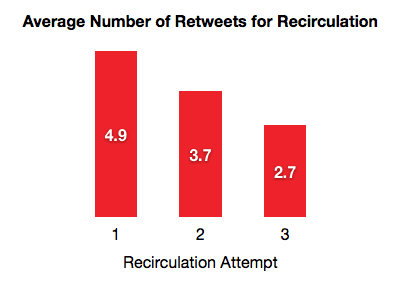 Tom's experience shows that scheduling a repost of your popular content on Buffer is an effective strategy for growth.
You will get to reach your target audience who are in different time zones and be in the view again of social media users who were previously unable to engage with your post when they first saw it.
Fun fact: For its own growth, Buffer used a content promotion strategy. They were writing blog posts and guest blogging on other sites to raise awareness and pull people down to their funnel.
Most times, you will need to create beautiful pictures for your social media posts without a professional designer. That's why Canva is such a great addition for your arsenal.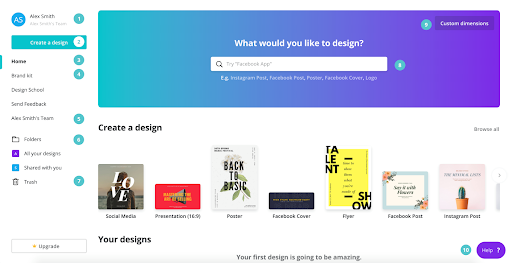 Images enhance the effectiveness of your content. In fact, a study showed that people only remember 10% of written content 3 days after reading it. But if a relevant image is attached to that same piece, people can recall up to 65% 3 days later.
With Canva, you can make gorgeous images for your social media posts quickly. You will have access to ready-made templates, illustrations and icons to create professional-looking pictures without having to engage in in-depth designing.
Canva features a drag and drop interface and a large database of over 2 million graphical elements.
Best Canva Strategy 
According to research, tweets with images get 150% more retweets than ones without pictures.
However, there's a catch.
Canva has over 10 million users who are all creating visuals with the tool, and most of them are doing so for social media. This means you need the right strategy to ensure your images stand out.
One way to do this is by making sure that the pictures attached to your social media content are relevant to the post title.
Look at the example below from the Buffer Twitter page: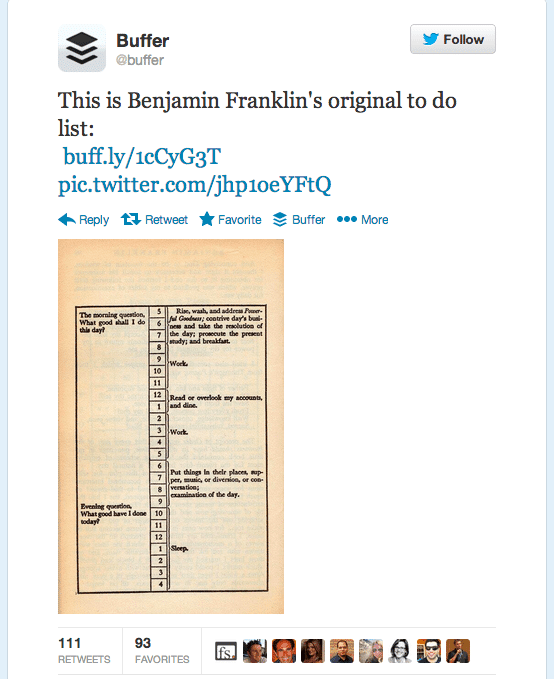 They changed the post title to align with the attached visual and this got the tweet 111 retweets. 
If you struggle to keep track of industry news or you work with various thought leaders and need to follow all their blogs Feedly can help you do this.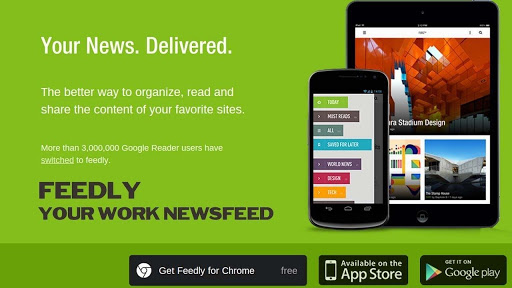 You can simply add the RSS feeds of every website you follow and see all of them in one space.
That's a big time saver. You won't have to go from website to website in order to access the content you need.
Feedly is also useful for content ideation. All you'd have to do is add several writers, publishers, and blogs whose content you like to a single feed and view them in a glimpse.
By seeing what the blogs and people you follow post, you can identify buzz topics and generate content ideas from the topics.
Best Feedly Strategy
Feedly is an excellent tool when merged with the right strategy and one of the best ways to use it is in content curation.
Content curation is lending your voice to a specific collection of content. 
Feedly pulls the content from various sources relevant to your audience and then you can share it with your followers.
Using Feedly, all you need to do is search for content that resonates with your audience and show it to them. This is a great way to grow your business.
As you share content that your audience wants, you'll capture their attention. Once you've gotten their interest, your brand sticks to their minds, and you can even start building an email list of subscribers.
It is crucial to state that when it comes to content curation you must ask yourself these questions before sharing content:
Who is the target audience for this?
How would this be useful to them?
How credible is the source I'm sharing from?
What effect will it have on the reader?
Is it worth the share?
The answers to the questions above will help you pick the right content to curate.
Conclusion
Social networking platforms are great for growing your business but without getting the right tools, it is extremely hard to get meaningful results. 
The social media tools and the strategies for their effective use in this article will ultimately help your business to take full advantage of all that social channels have to offer your brand. 
What is your favorite social media tool?