Ads Supply Review – Creating Ad Campaigns Made Easy
Affiliate marketing is the buzzword these days among those who wish to earn money in the humungous online space. But excelling in this realm is not a piece of cake, especially for those who are just starting off without prior experience. One of the biggest challenges for every affiliate or online marketer is to find the best marketing platforms and tools that can help make the process easier and more straightforward. One of those platforms is Ads-supply.com, and in this Ads Supply review, we'll help you understand the platform and what it entails for both novice and seasoned affiliate marketers.
What is the Ads Supply platform?
Ads Supply is a self-service digital advertising platform that allows online marketers to make money online by using a collection of tools. The platform enables marketers, whether novice or experienced veterans, to create, run, and optimize (when needed) their banner ad campaigns. Those ad campaigns are based on the cost-per-lead (CPL) model, meaning that members (i.e., affiliates) earn a commission for every lead generated.
Ads Supply bridges the gap between individual marketers and CPL advertisers, who are willing to happily pay marketers for every valid lead they manage to garner on the platform. Each ad campaign created, promoting a product or service from the variety offered on the platform, is displayed on top-ranking websites with the potential to reach a huge targetted user base. The more leads the ad campaign generates, the more money the marketer can make.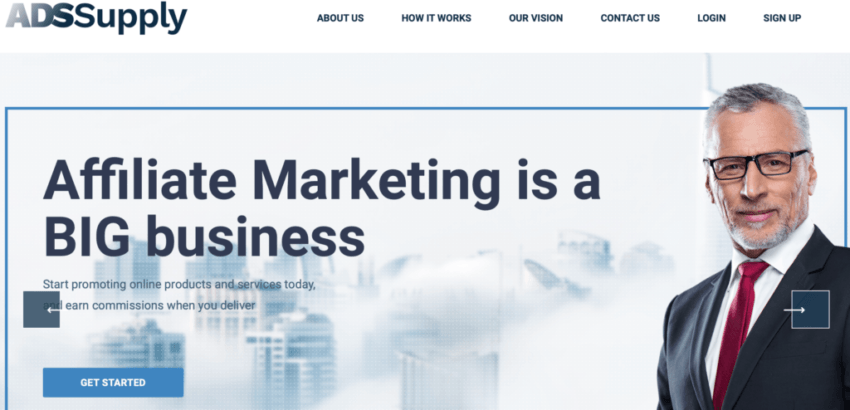 How can you start advertising?
Perhaps the best part about the Ads Supply platform is that you don't need previous advertising experience to start creating and running ad campaigns. You can start advertising on the platform in any of the following two ways:
Marketplace
Once you create an account on Ads-supply.com, you can start the campaign creation process by checking the "Marketplace" section in the options panel on the left. In this section, you'll be presented ready-made banner ad campaigns you can launch instantly. All you have to do is just choose the category of the campaign, click on "Buy Now," set the price and time range, and your campaign is good to go live. Yes, it's that quick and straightforward.
Custom campaign
The second way to create and run ad campaigns on Ads Supply is by using the "Custom Campaign" feature. Here, the process is slightly longer than the previous option but still simple and intuitive. Firstly, you need to name your campaign and then set its duration, which is usually 1 – 5 weeks. Secondly, choose the campaign's category, its budget, and the banner image. You will then be redirected to a page where you define your target audience based on several targeting options such as topic, country, language, and device (mobile, tablet, or desktop). The fourth step is to choose a headline that describes your ad campaign interestingly and enticing enough to make the user click on it. Finally, click on the "Save & Launch Campaign" option, and your banner ad campaign is good to go. Not really complicated, right?
Packages
Ads Supply offers its members a few different packages, suitable to all levels and budgets (note that the minimum deposit amount is $250). Here are the most popular ones:
Starter: You get a welcome value add-on of 30%, along with a platform guide and a live training session.
Silver: This package offers you a platform guide, five live training sessions, and a monthly market review.
Gold: This premium package offers you a platform guide, a marketing e-book, a monthly market review, an introductory academy session, and not less than ten live training sessions, along with some other benefits.
To Conclude
Ads Supply offers both novice and seasoned affiliate marketers an easy-to-use advertising platform to create and run CPL ad campaigns. The platform's interface is intuitive and user-friendly, and the amount of products and services you can choose from is huge. Despite the mentioned above, note that this is not another get-rich-quick scheme, meaning it certainly demands some effort and resources on your part to generate good returns.
3 Comments
Thomas

October 3, 2020 (2:30 am)

Be very careful before you enrol. There is a big catch in the Bonus Agreement. I won't bother even. High risk low reward deal.

Sam Bektas

October 23, 2020 (1:52 pm)

Firstly, Can you exit these campaigns without losing your starter outlay. before their expiry date ?

Or is it better to see out the duration of the campaign and maybe then exit out. ?

Secondly, what happens to the campaign after their expiry period?

Irving

January 25, 2021 (3:04 pm)

My advice dont sign up with Adssupply! There agents aren't fully trained & because of this, there is always a misunderstanding on terms and conditions.

Nick Perez! Does not representation good customer skills! He will call you names and insult you for the misunderstanding & service that ads supply offers #adssupply